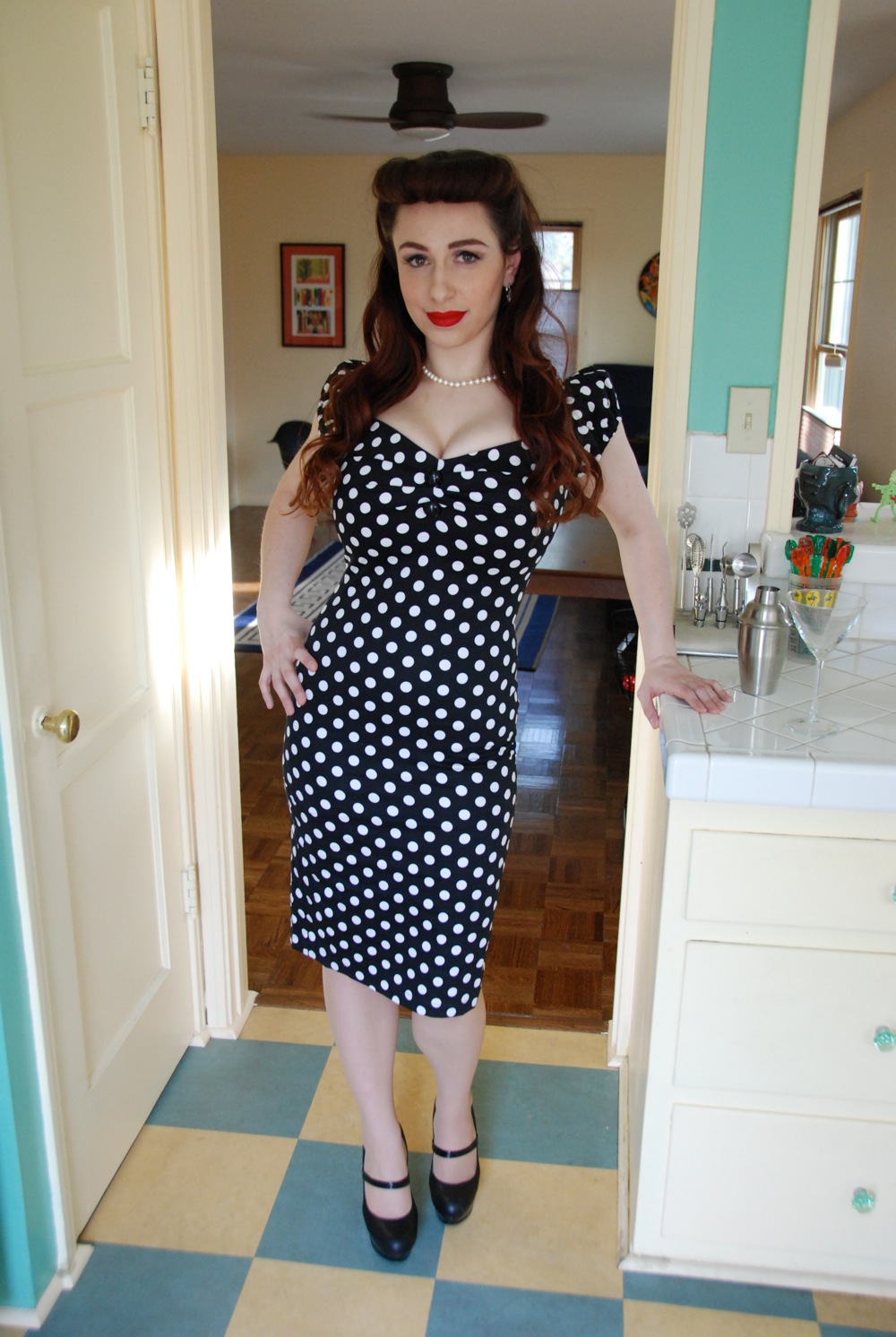 Dear John,
I hope this letter finds you well.  It seems to me that you've been gone an awfully long time already, although surely these few months might seem like nothing to some.  But I have been thinking a lot as I've waited for you, and I've decided I should write you a letter.   A lot has changed in the time you've been gone.  It seems strange to say that time alone has helped me feel like more of a woman and therefore more of myself, but I think it's true.  I've been listening in to the radio, and the ether has keen tunes that move me to my feet.  You never liked to dance, but I do, and now I can dance all night long.  I've started to do up my hair and wear dresses just because I can, because I feel like a real butter and egg fly all dolled up, regardless of whether some man's gazing at me, although I don't mind a look now and again in the slightest.  I got this lovely dress from Collectif and I feel so smooth in it, like I could do just about anything or run out and get a honey cooler from some swell guy and wouldn't it just be lovely?  A nice dress can do that for you, John.  Can make you feel like you're cute as a bug's ear, even just in your own home.  You never seemed to notice my dresses.  But I've always liked them, and I get an eye every time I head out these days.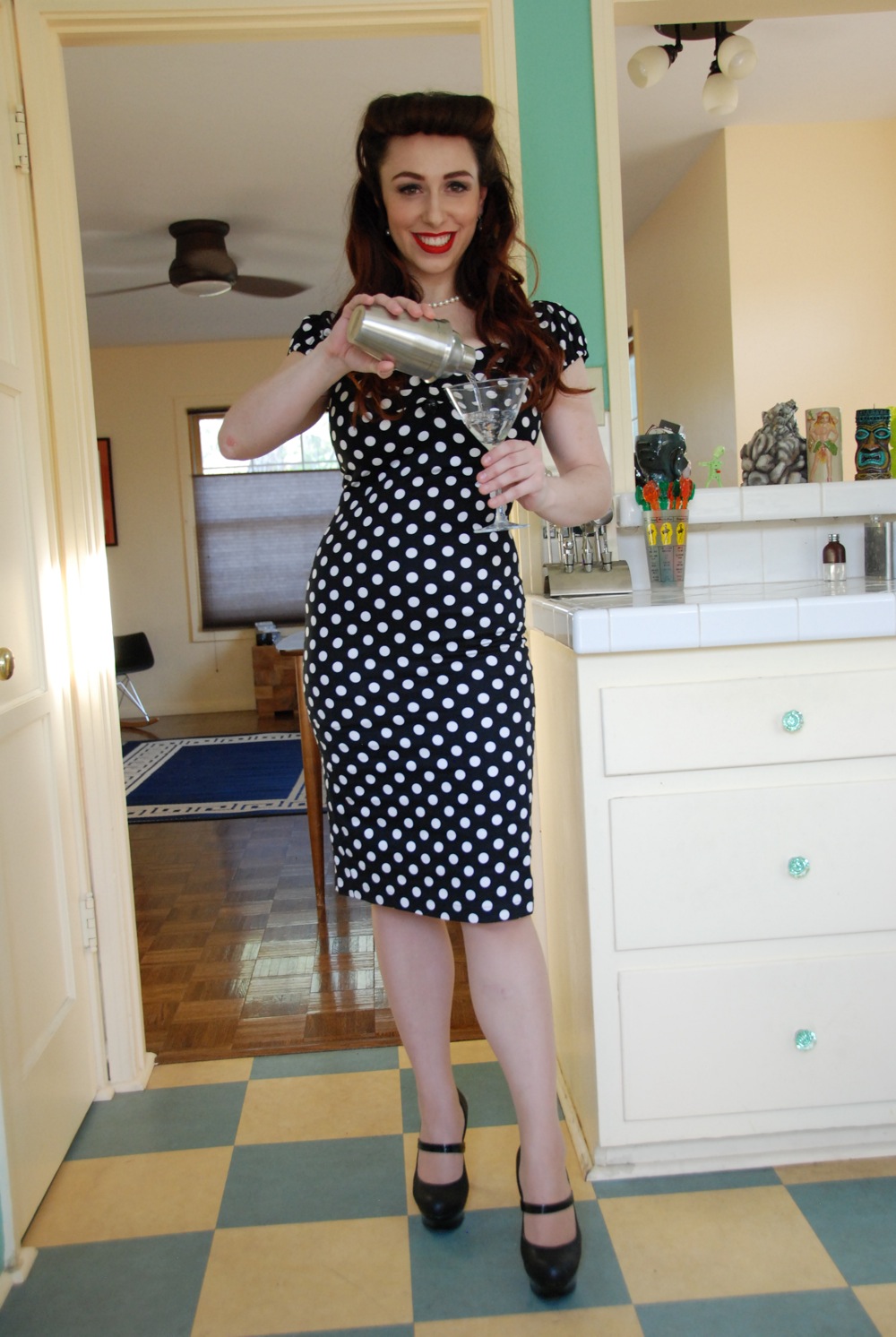 In your absence I have learned that I like to wear fine lace and satin and dress up and fuss over things because it's part of the core of me, and that I need a man who'd be happy to be dizzy with a dame, a dame like me who wants all the frills.  A man who will gaze at me as I'm bustling about the kitchen, and linger on my silhouette as I reach for a glass to fix him an evening drink.  In dresses like this, the fabric outlines my body just so, and I like to fancy myself in possession of a nice feminine physique, maybe a physique that a man might appreciate now and again, that might cause his eyes to run down the curve of the small of my back…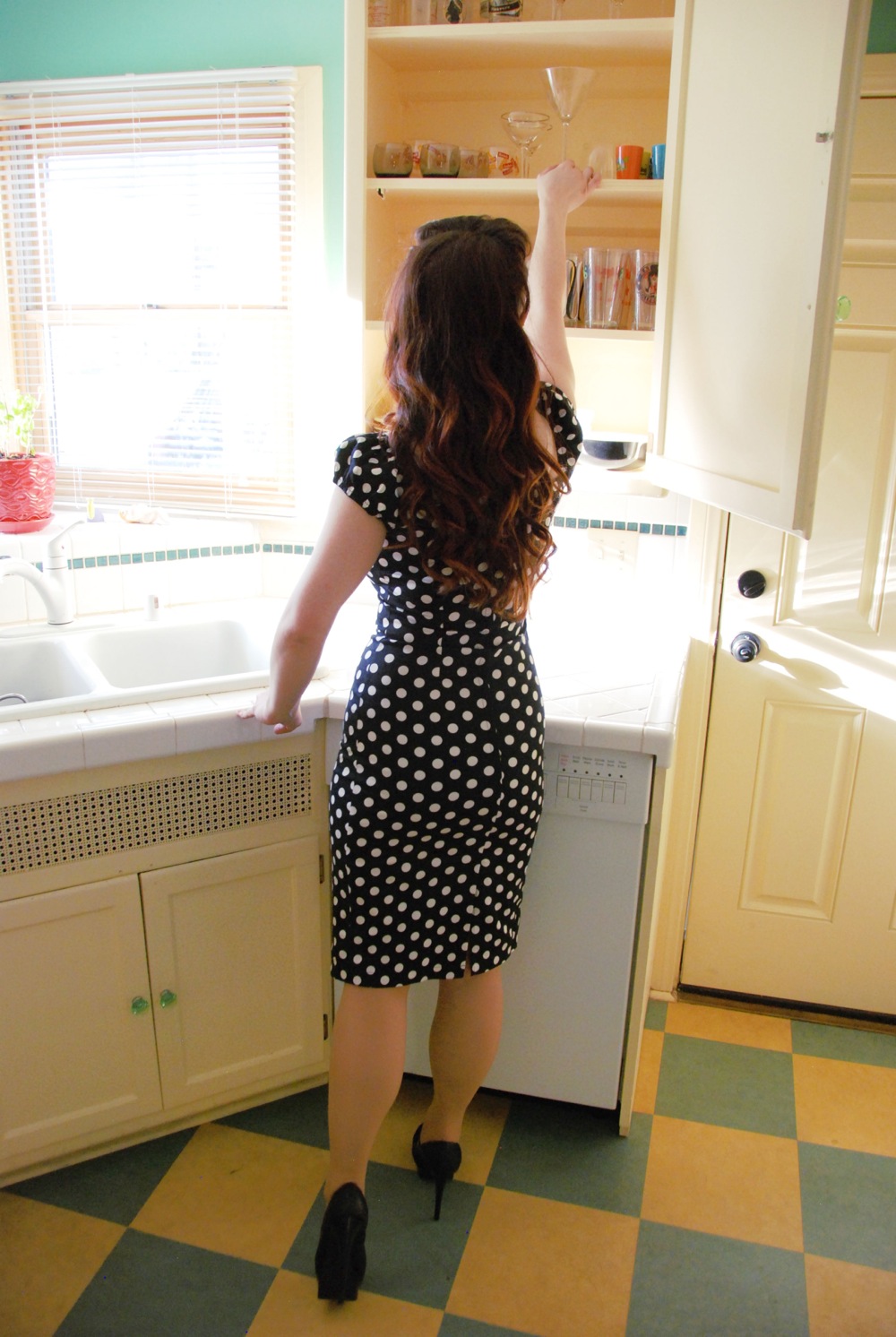 But even without a man, I'm happy in it.  I can fix myself a drink, or make just what I want to eat, and no one says anything to gum up the works.  And if a strap shows here or there, well, who's to care about that now?  You wouldn't have cared one way or the other, I suppose.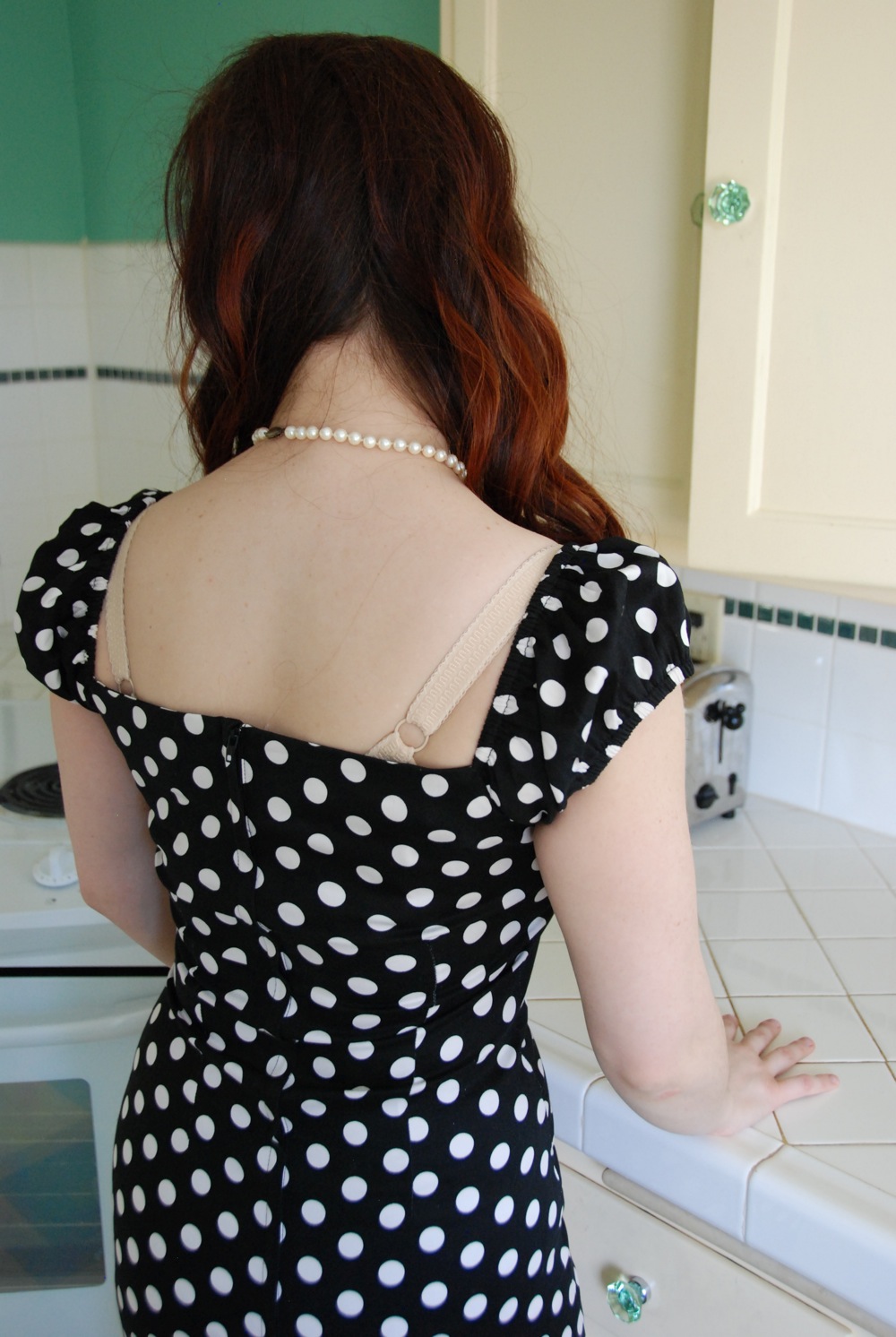 I care, though.  A woman wants to feel beautiful.  I want to feel beautiful.  I wear this dress, and I imagine that the next man I choose to spend time with will be a little bit spellbound as I look up at him in it.  I'm not hiding myself anymore in this dress, and someone's going to love that about me.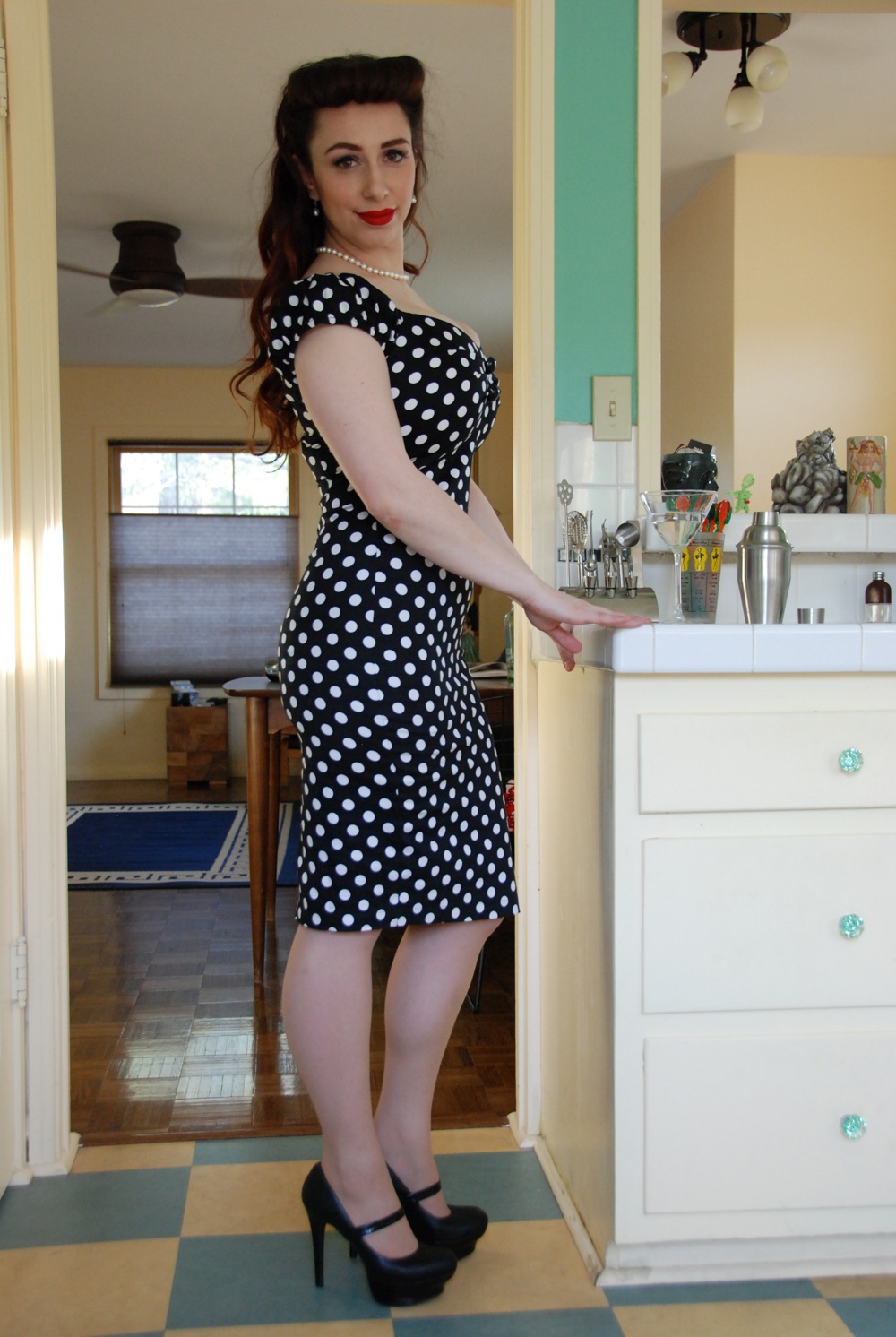 It may be a little tight here and there, not a perfect fit, but things don't have to be perfect to earn my affection.  You wouldn't have had to be perfect either, John, but you would have had to look up now and again, a bit of fire in your eyes.  So I'm sorry, but I'm not going to wait for you anymore.  I'm taking my dress and my dancing shoes and we're hitting the town.  I hope you find something better for you, and that you'll come to understand in time.  Till then, here's a last drink to the good times, of which there were many, and to things that might have been.  I've got to be off now.  There's a world to see and to be seen in.  Take care of yourself now.  I'll be seeing you, someday.
*****
Gentle readers, I hope you'll indulge the different format of this post.  There was something about this dress that spoke to me of a woman waiting at home during the war for a husband who just didn't love her the way she had wanted, and of time passing and her finding a side of herself that had lain dormant in his presence, freed now that he was gone.  I envisioned her lingering with a drink and a novel late at night, enjoying not worrying about making a breakfast in the morning that would receive no thank you, and dancing to jazz over the ether like it was her first time hearing it.  She could see herself with a man who would cherish and take care of her because every day he was inspired by everything she was.  Old fashioned, certainly, but I think in a certain time and place there might have been a woman like that, and I hope she found what she was looking for.
I feel that it says something good about a dress when it inspires you so much, and with that in mind, I highly recommend the Dolores Polka Dress.  As you can see in the last photo, it's just a bit too small in the bust for me, depending on how I am positioned, so I'll probably end up sadly and reluctantly selling it, although I've kept it for some time just because I love it so much.  The body is very snug, so I will see about sizing up – hopefully it will keep the lovely silhouette from the waist down while allowing the ladies a little breathing room.  But unless your proportions are nearly identical to mine (about a 13 inch difference between waist and bust), I think this is a great choice and would say you should be fine sizing on the small side if you feel comfortable with this kind of look.  The fabric is a bit stiff but not uncomfortable (and I have never washed it, as it was only worn for the shoot, so I don't know if it would relax with time) – 98% cotton and 2% elastane.  I love the two buttons on the front, right under the neckline, and apologize that they are hard to see in the photos (black on black), as they are a pretty detail.  I included the second back photo in the post to show the wide opening in back – I think it would be hard to find a bra that wouldn't peek out.  I don't think it's a huge issue (and I can hide it with my hair), but if that bothers you, you'll want to plan on wearing a shawl or cardigan to cover it up.  But enough with the dry details.  I had one more thing to wrap up this post with, a fun GIF made by a friend, but alas, I can't get it to upload at the moment, and I'd really like to get the post up now.  I'll try to edit it in when I figure out what the issue is.  Till then, here's one bit of it as a bit of a teaser:
*****
Company: Collectif
Item: Dolores Dress Polka and Black and White
Size: 8 (That's UK sizing – they list the US equivalent as a 4)
Price: £50.00, which is approximately $78 at the moment.
Style: Casual, date night appropriate.
Other Colors and Prints: The Polka print comes in Baby Blue, Candy Pink, (navy) blue, and red, and the Dolores Dress also comes in a number of other prints and solids.  Check out their website to see them all.  Very popular with fellow curvy ladies is the swing version of this dress, the Dolores Doll, which I hope to be able to try sometime soon.   It's lovely.
Ratings:
Fit: 8/10 (Quadboob makes me sad, and it would be nice not to have bra straps showing. Otherwise delightful.)
Quality: 9/10 (Would like slightly softer material.)
Comfort: 9/10
Style: 10/10
Fit comments:
As stated above, I think if you have even an inch or two less bust-to-waist differential than I do, you should be fine in whatever the smallest size you'd usually take in something like this is.  If you're of similar dimensions, consider sizing up one.
My measurements at the time of the photoshoot: 40/27/38
Other Reviews of the Dolores Dress:
Not really a review, but a nice mention and picture in a Collectif roundup from Le Curvy Kitten
The Full Figured Chest (Red Ridinghood Print, with which I am obsessed).
*****
Photography by Geoff Carter
Hair and Makeup by Elaine Thomas
*****
 So gentle readers, what say you?  Do you see the woman that I do?
Isn't it sad that the words "Dear John," aren't quite visible in the photograph, despite the fact that I typed them oh-so-carefully?
Do you enjoy dressing up just for yourself?  And what do you think of this lovely garment?
Thanks for reading, as always.  Let's go paint the town red.