So, gentle readers, as many of you know, this brog began with the humblest of aspirations, very little planning, and certainly no specific rules for post formatting. I knew I wanted really nice pictures, detailed information, and a vaguely narrative format, and that was about it. I rather quickly developed an aesthetic I enjoyed: lots of pictures, fun settings, a bit of a story or character, and… More pictures. Here's the thing, though – I'm not posting all of these in the order taken. I tend to do multiple shoots in one day when I can, often of similar styles, but I try to post in such a way that styles and brands are interspersed over time. This has generally been all well and good, but then I got to today's post, of one of my absolute favorite dresses: the Heidi, by Pin Up Girl Clothing. This dress is a dream, and it deserves the longest of posts, from every angle, with a whole host of characters in a dream setting. Unfortunately, this was one of the first dresses I shot in, and at the time, I had no idea I'd be doing such elaborate reviews. So. Here are some great pictures. You know… like five of them. But I promise there is more to come! One day I will own a Heidi in a different print, and I'm going to photograph the CRAP out of that dress. You will be overwhelmed by the amount of photo goodness. But in the meantime… Here is a look at the one I have at the moment.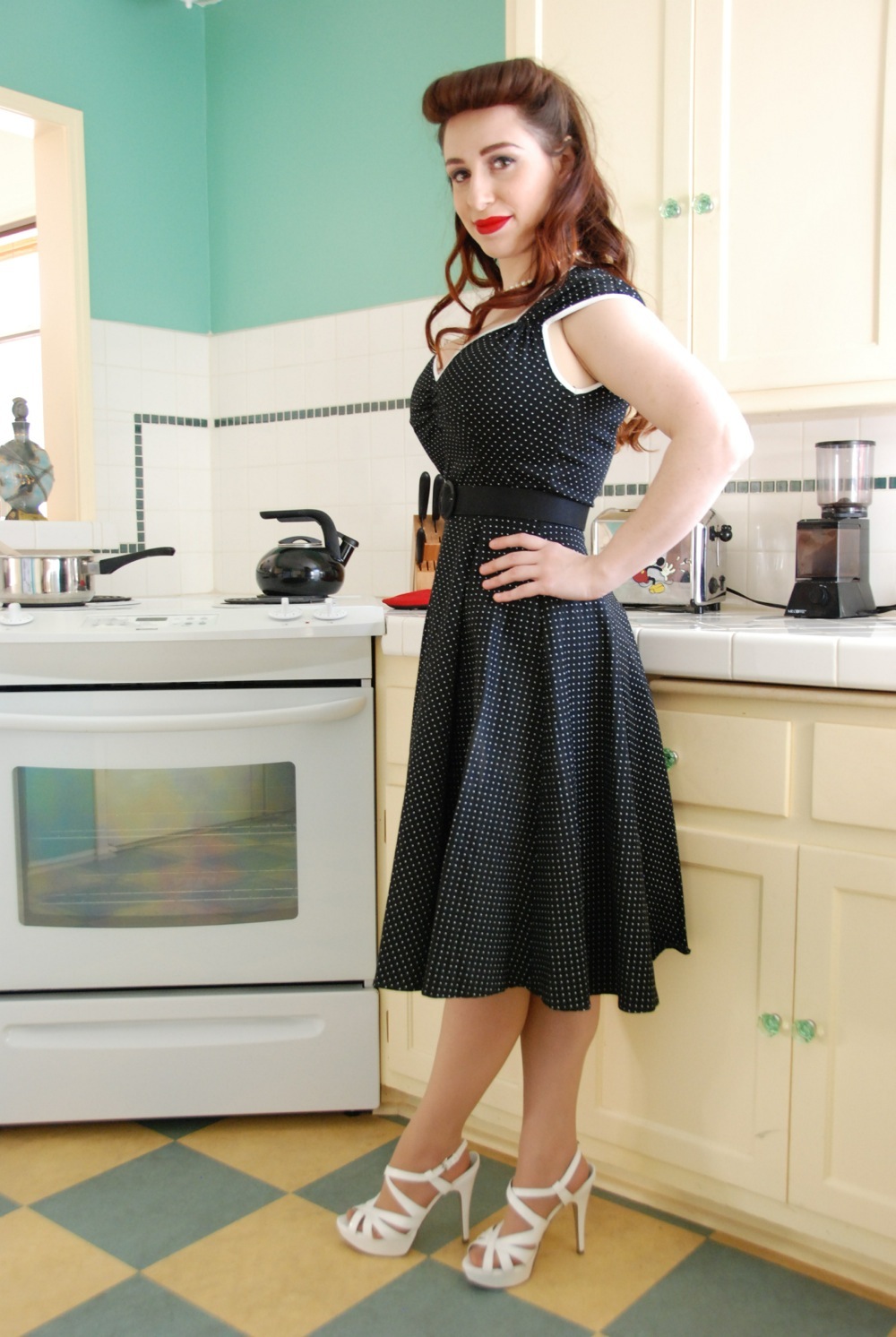 This dress is a dream. A 50's dream, to be sure, but one that carries so well into the current era. Just look at how it skims the waist before flaring out into a wonderful full skirt. One of these days I'm going to invest in a proper petticoat, but in the meantime, I think it's lovely by itself. I'm wearing an ill-fitting nude bra that is trying to saw off my arm where it meets my body, which is why it appears that my torso is actually that of a mannequin with the arm screwed on or something, but unfortunately that's all I had and, as you can see, a nude bra is somewhat necessary for bustier gals given the cut of the armholes. As most people do not wear bras that are secretly harboring arm-severing vendettas, this should be fine on most anyone, especially if you are slightly smaller of bust. I think the way the sleeve is gathered in right above the lovely sweetheart neckline makes for an absolutely divine profile, and the high quality of the fabric keeps it from clinging to any lumps or undergarment lines, leaving a perfect flat tummy look that I would happily sport any day. I added this belt because the included one didn't make it to me when my friend loaned me the dress, but it comes with a white slide belt that looks lovely and can be seen on the website.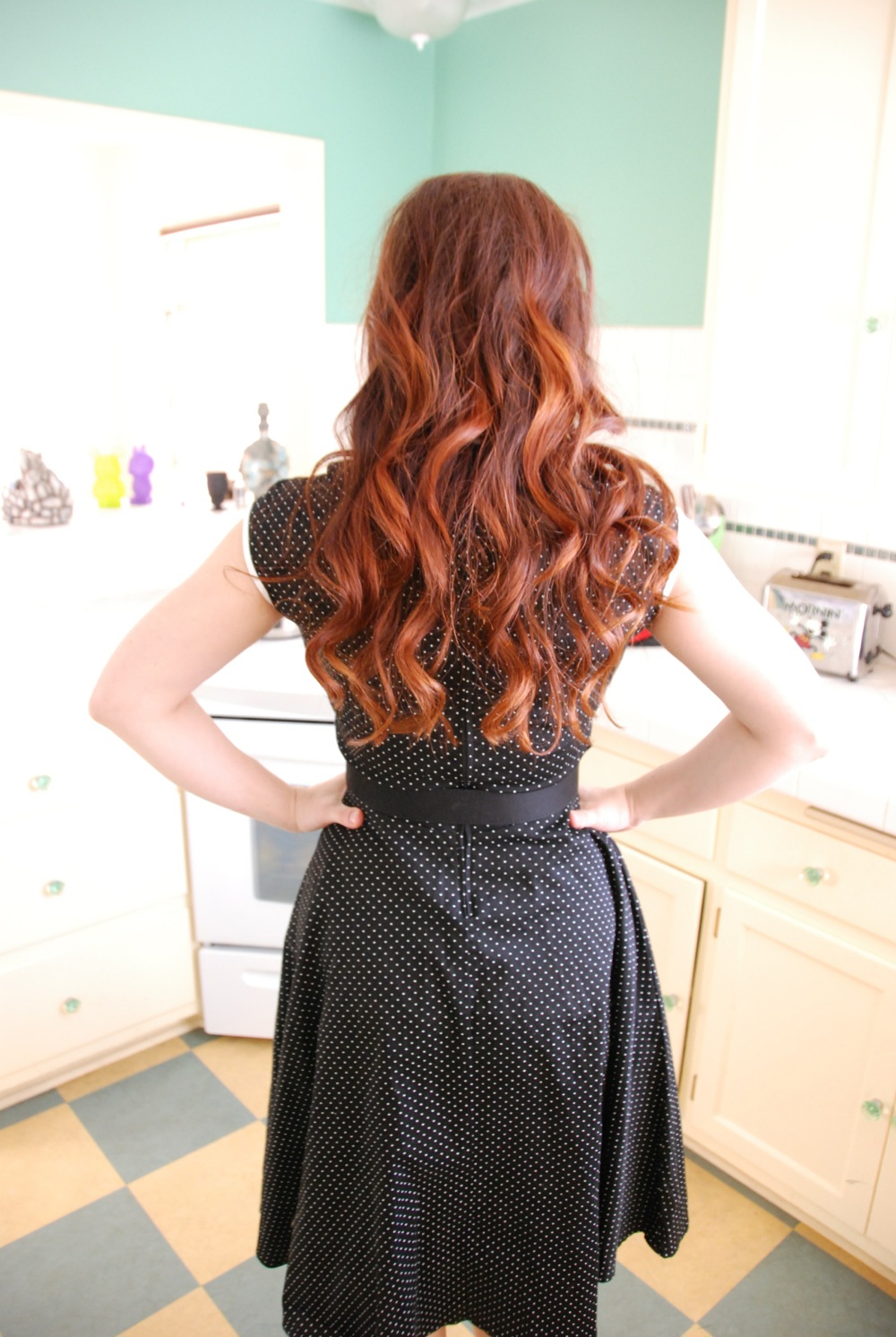 The back is also fabulous, and shows off my hourglass figure perfectly. I very highly recommend this for fellow hourglass types; it doesn't get much better than this, gals. I absolutely love the sleeve length here, too – I wouldn't want proper sleeves, but I like that these come out far enough to cover bra straps and my upper back and shoulders, about which I am a bit sensitive. The whole thing really comes together perfectly.
I was so inspired by this dress that I felt the need to fuss about in the kitchen, at which my inner feminist squirmed a bit but the rest of me hopped about giddily.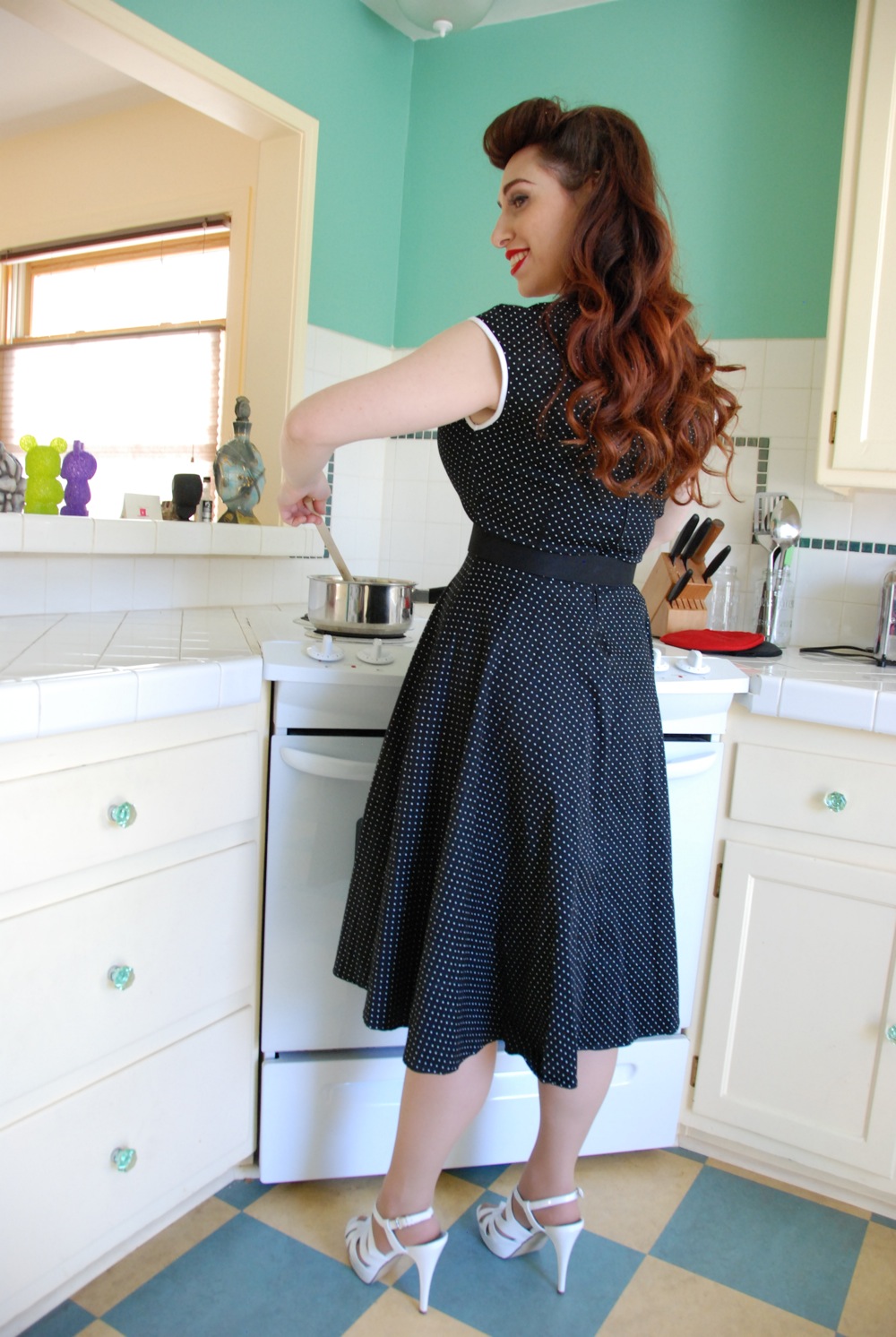 Gah. I honestly can't believe I don't have more fun photos of this dress! I simply must remedy this, gentle readers. As soon as I can manage it, I will get another Heidi and give you the post you deserve. Until then, here is my final verdict:
BUY IT.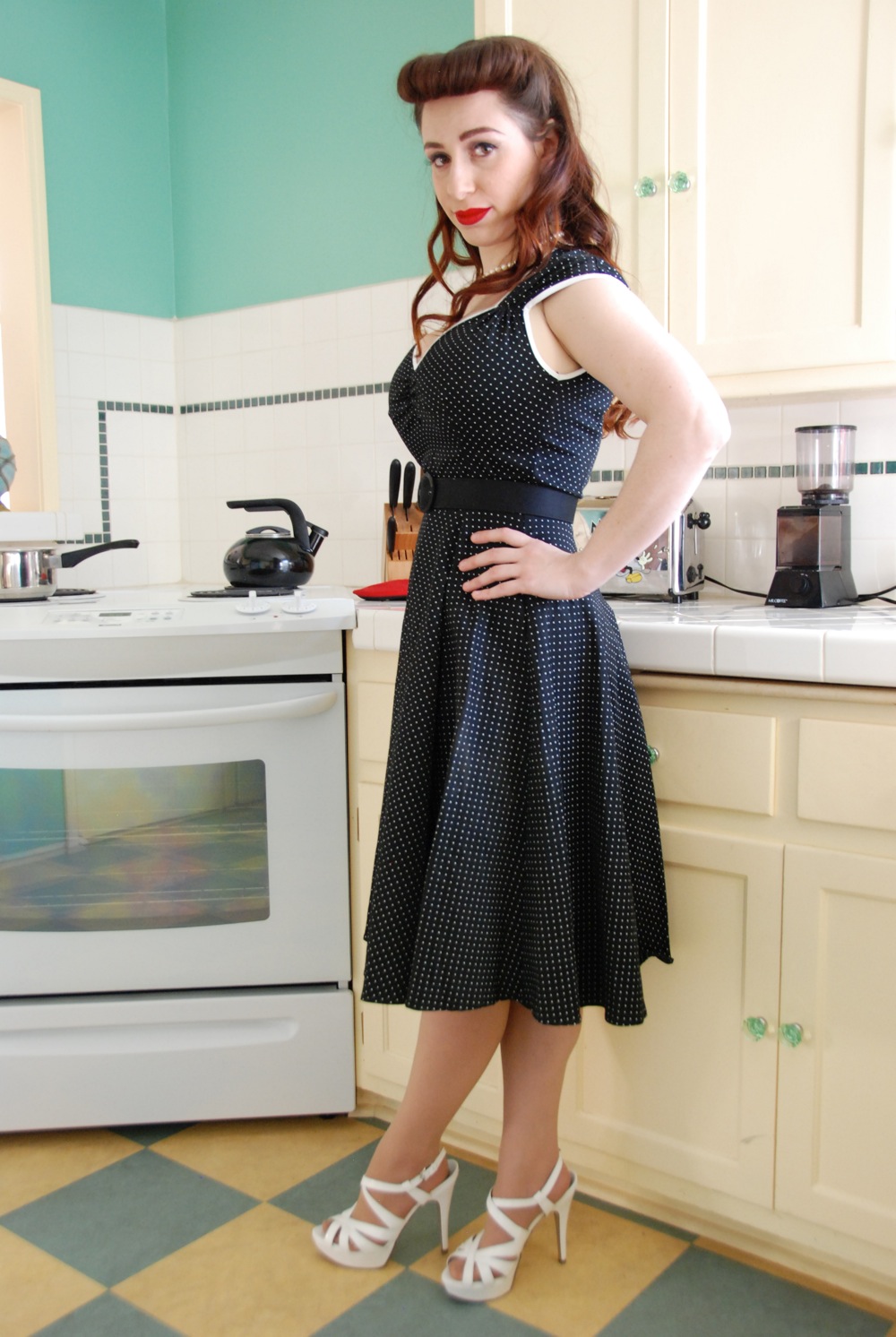 See that vaguely stern look I am giving you? That means it's SERIOUS BUSINESS. This dress is wonderful, comfortable, made of quality materials, insanely flattering… It's just fabulous. The neckline. The little gathers in the sleeves. The voluminous skirt. The tiny waist. It's just lovely. Do yourself a favor and get one, and then someone should do me a favor and get me one in every print, because I really just love it that much.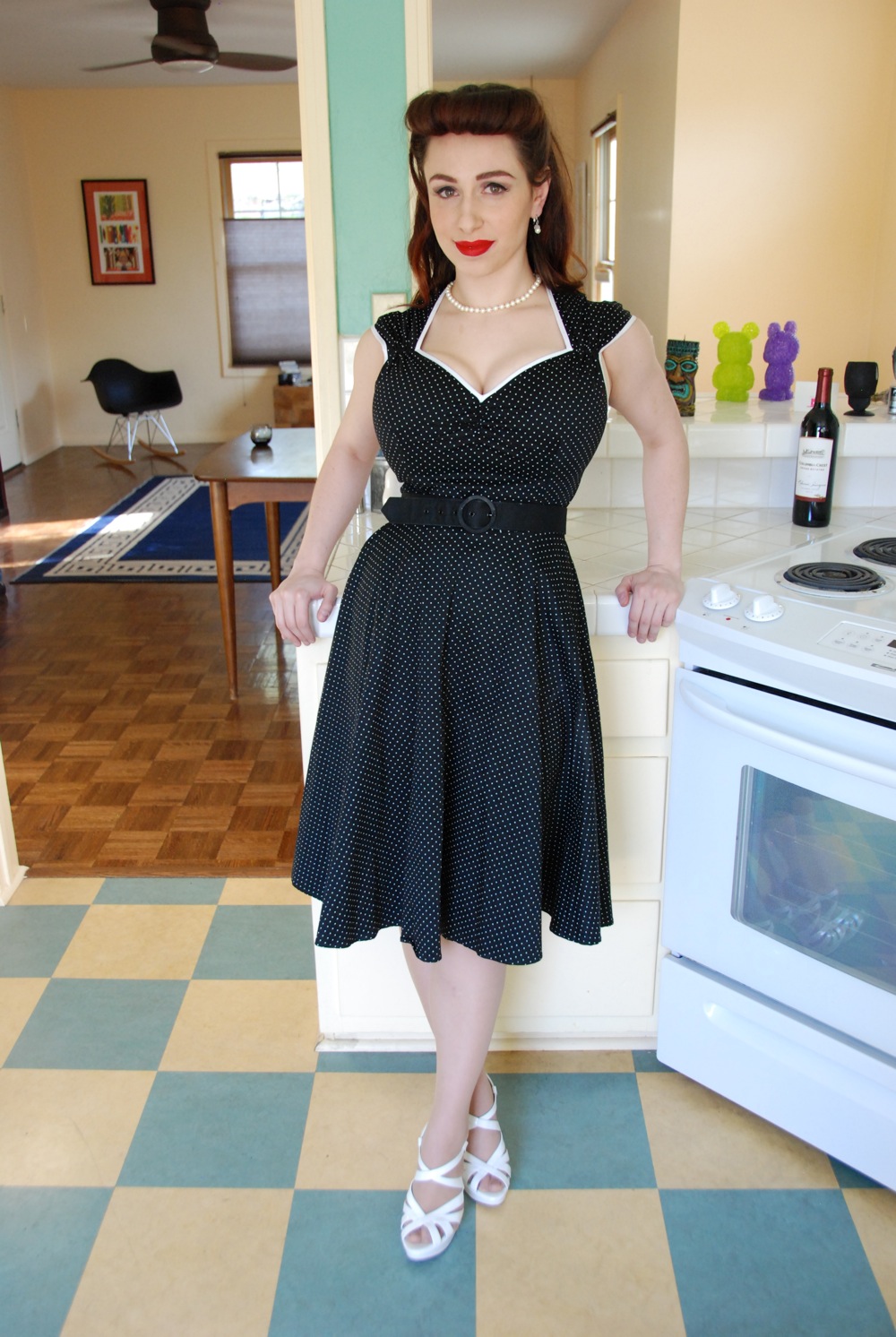 ***
Company: Pin Up Girl Clothing
Item: Heidi Dress in Black Pin Dot
Size: Medium
Price: $98
Style: I would say it's perfect for a night out.
Other Colors and Prints: Quite a few! Take a look at the website to see them, but my favorites are:
Red Sateen, Bright Blue, Cool Mint with Black Trim, and Birdcage Print
Ratings:
Fit: 10/10
Quality: 10/10
Comfort: 10/10
Value: 9/10
(It's more than I want to spend on a dress, but if I'm going to spend this much, this is the kind of dress I'd do it on.)
Style: 10/10
*****
Fit comments: I'm about a medium in everything PUG, and this is no exception.
My measurements at the time of the photoshoot: 40/27/38
*****
Other Reviews of the Heidi:
The Curvy Kitten (Leopard Print)
Fuller Figure Fuller Bust (Leopard Print – part of a PUG roundup)
*Note – in finding this review, I discovered that I had unwittingly copied her "Pining for Pinup Girl" title in an earlier post! I'm not sure if I should change the old post now, as it's linked to and listed in various places, but the series on PUG clothing will definitely be needing a new title from here on out. If you have any ideas, please suggest them in the comments! And I'm so, so sorry, Georgina!
Pinup Persuasion (Cherry and Black Pin Dot)
Leah at Hourglassy (Birdcage Print)
*****
Photography by Geoff Carter
Hair and Makeup by Elaine Thomas
*****
But wait, gentle readers! Did you really think I could leave you just like that? I have to give a preview of the next post, because this is actually just the first offering in a duo of black polka dot dress reviews! Drop by in a week for my first dress from Collectif, the Dolores Wiggle Polka! And THAT one will have quite a few photographs, and maybe even an extra surprise. So stay tuned, my loves…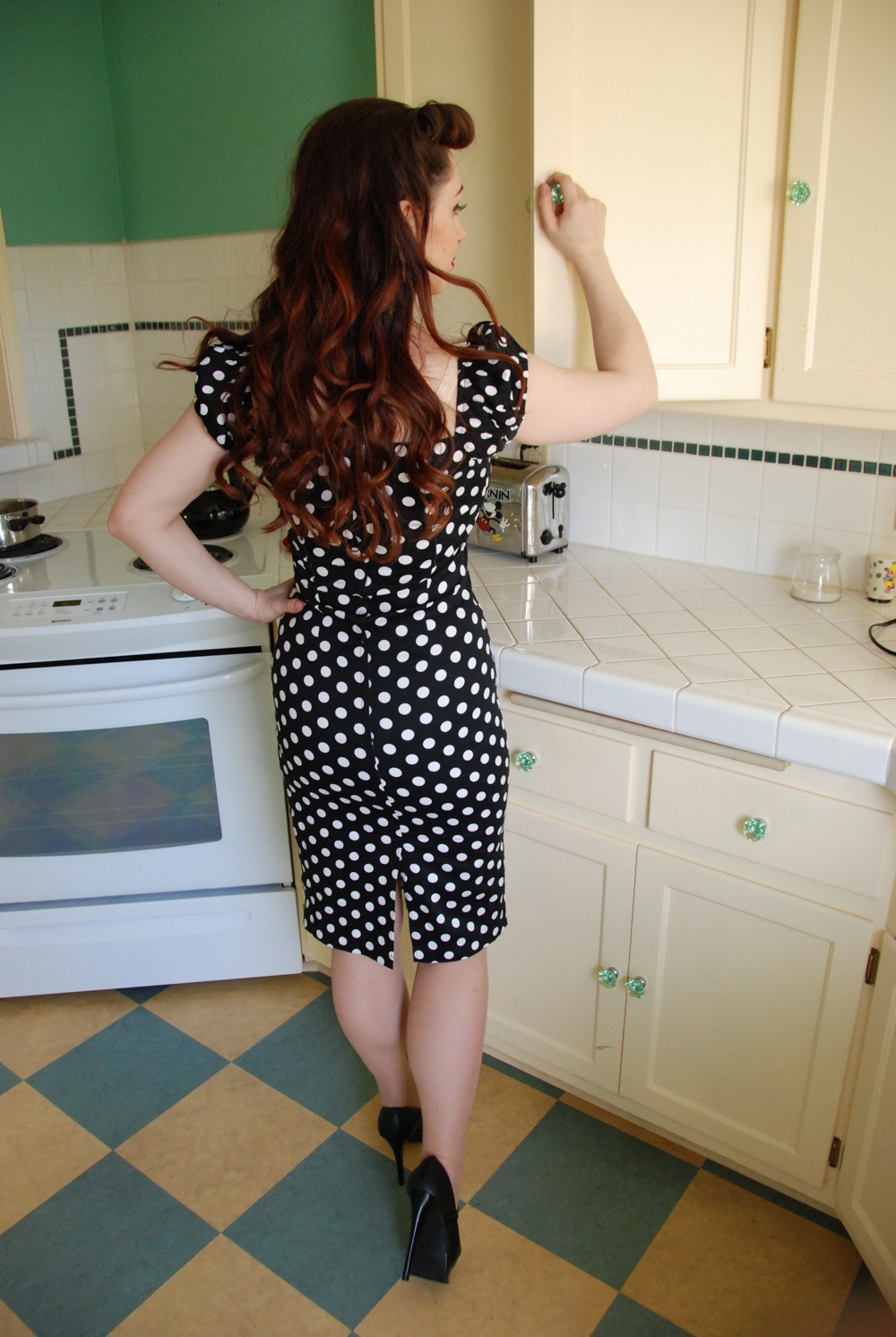 What do you think of the Heidi?
Do you like pin dots or full on polka dots?
Doesn't this deserve a full Weirdly Shaped and Well Photographed review?!
Please leave me some love in the comments, gentle readers, even though I may have left you wanting a bit this week…